The family of the popular Human Rights Activist and Afrobeat pioneer, Late Fela Anikulapo Kuti, has threatened to sue Bola Tinubu and the All Progressives Congress for using the musician's trademark on 2023 Presidential campaign T-shirts for the APC National Leader.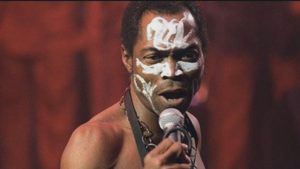 Femi Kuti, the eldest son of the legendary musician, took to his Twitter page to call out the Nigerian politician's campaigners and his political party the APC to desist from using the radical artiste's name to promote Mr. Tinubu and his party; All Progressives Congress (APC).
"I have seen the tweet by @APCNigeria and confirm that use of Fela's name on the T-shirts bearing the name "JAGABAN"  was never authorized. The family owns the trademark and the use constitutes an infringement and disregard of our legal rights.  The user is advised to cease and desist and to immediately delete this tweet," Mr. Kuti said.
He stated further that the legend's name should never be used to promote any political agenda of any sort, as the family does not align with any Nigerian political party.
"We are carefully assessing the situation and failure to comply with this demand will leave us with no other option but to explore any legal options" he added.
Fela's family threatens to take legal actions against Tinubu and the APC if the parties fail to comply.