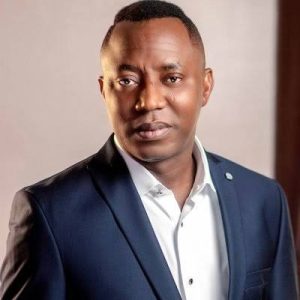 In an interview with the NTA, the presidential candidate of African Action Congress, Omoyele Sowore has said he is more experienced than all of his opponents combined. Recounting his involvement in the past events he said, "I have been part of every event in this country from which there was a transition of governance to another.
"When I was a student leader, I was part of these people who fought, that is leadership. I was a leader who took bold steps to say military rule must end.
"It took us a while, there were bruises, i was detained at least eight times before i left nigeria, i was expelled twice and was almost killed at the university of lagos, i was poisoned at a time and after ten years in 1999, that process came to an end an we were victorious.
He said if he was a soldier, his name would have been written in Gold.
"If I were to be in the Nigerian army, having fought for ten years, I would have been given different titles. My shoulder would be filled with epaulets because I would have been a victorious soldier.
He mentioned his consistency in the involvement of the continuous transition of government
"After that I left the country, there was another transition that was needed which was from civilian to civilian transition which ended in 2007. I was one of the people who sent obasanjo off from becoming a third term president.
"I made another transition which was professional. I studied geography and planning at the university of lagos and ended up becoming a successful journalist.
He said these are the track records that people look at. Leaders who are dynamic, who can adapt and speak to issues, who can stand up for issues, who understand leadership, followership, who understand the issue affecting their people.
"I became a publisher in 2006, Sahara reporters became a global brand. I opted not to go to the world economic forum but i opted not to go to the world economic forum, i went to the world social forum instead to learn about social issues, land, resources, and when that ended there is another transition in this country that people didn't take note of.
"We had a president that was voted into power in 2007 then, he was sick. This country was held to ransom by cabals behind that late president, and when the country was looking for people to resolve the problem, I came in handy, using sahara reporters to expose every part of the schemings behind.
"There was supposed to be a coup but the publication we did which is now confirmed by the former chief of army staff by that time thwarted the coup.
He said being experienced has nothing to do with being in power alone.
"It might just be that you are a great witness of history, it is a great experience because that helps you understand your country better. What serious countries call experience is not occupation of offices or power, it is character and capacity that the person must have developed himself over time, understanding the issues and solving problems, whether in the private or public sector.
"I have been of service to my country. I have been a public servant but as a citizen servant as opposed to a paid public servant.
"Any experience that carries sacrifices is more important than the one that carries remuneration.
"I am better experienced than most of them because I have sacrificed everything I could that I have, to become the leader that I have become today, he said."