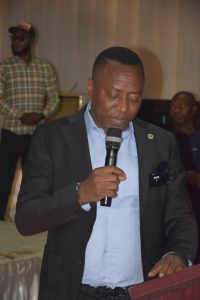 The presidential candidate of African Action Congress, Comrade Omoyele Sowore has said in an interview with Arise tv that he is not a mainstream political candidate, but a mainstreet political candidate.
"I am not a mainstream political candidate, I am a mainstreet political candidate. I talk to the street and I know how people feel. I carry a lot of anger, righteous anger against the way this country is governed, he said."
He revealed he purposely turn up for events like that 'peace meeting' to make his voice heard and reflect the position of the Nigerian people.
The human rights activist said if the election is free and fair, he would defeat the so called frontliners.
Speaking on health, he said he challenged the presidential candidates of other parties to a marathon race because he believes one must be healthily wise to pilot the affairs of the nation.
He said health has become a major conversation around election because some presidential candidates looks sick.
"It's a challenge. The people who want to govern a sick country should be able to do healthy things.
"Nigerian cannot afford an unhealthy president because the country is unhealthy. We need someone who is agile, able and not incapable, he said."