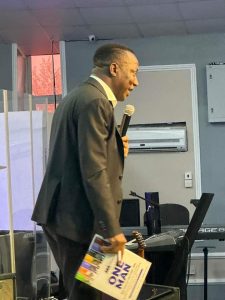 The presidential candidate of African Action Congress AAC in a roundtable discussion with Punch newspaper said, "Politics is about ideas, competence, relevance, pedigree and integrity. That is what I am here to do and not to use one of the sentiments that are frequently used in politics.
He said politics ought to be played about a leader who is passionate about the future of the country, with all intent be given the opportunity and people should have inclination towards them.
"We do ourselves serious injustices when we reduce very serious matters of life and death to people who have not demonstrated in any capacity or have background that shows they are able to pull this country out of the doldrums," he said.
Sowore said the press decides who to put at the frontline and they keep promoting them to such an extent that the people with the brightest idea don't even get enough mention. "This is a race that should be about ideas, considering that Nigeria has failed consistently with the same set of people who pundits claim are at the frontline.
"For you to be a frontliner in the academic sector for example a professor, you must publish books to show that you are qualified, it is a criteria. Same thing ought to apply to the political sectors.
"A person who has never passed any kind of test should not be regarded as a frontliner, but Nigerians have been manipulated to believe their worst should be their best," Sowore said.
Speaking further he said, we have shown that we can speak to the issues, we have fresh ideas that nobody can fault. So why do you keep putting people who don't speak to any issue as the front liners? So that when the whole thing collapses again, you will bring us to the front liner of resistance, asking where is sowore?
He said when Gani Fawehinmi ran in 2003 people opted for Obasanjo. "Gani would have governed the country better.
Still addressing the term 'frontliner', "The press got it wrong and It is a disservice to the Nigerian people and the nation to keep putting the people that we describe as the dregs of the society as its best hands," Sowore said.
In response to him being in the senate, he said It doesn't make any sense that the person who doesn't remember his name should be president while the most vibrant person goes to the senate.
"The worst among us should not be picked to handle the most important position and then relegate the best to the less important position.
He urges people to stop saying that and he also challenges other presidential candidates to debate, to show people who is more qualified.
"The job of a president of a country is to fundamentally lead the country to progress and prosperity.
He said he is more capable of leading the country. He can ensure that children goes to school, pay people's salaries, speak to the issues affecting people, represent the country well, grow the country in a way that is technologically futuristic, represent the aspiration of people, provide jobs, fight for them, build roads and hospitals that will work for them and make them proud as citizens of this country.
"Maybe my crime is because I did not delve into a criminally wealth accumulation. I came here to build people and not to build houses for myself, he responds.
"It should never have happened that any citizen is restricted to any part of the country because not only that it is unconstitutional, it is criminal to allege that somebody committed a crime they didn't commit," he said this in a response to how he was restricted.
Sowore said what keeps him going is his ultimate goal for total liberation.
"There is no alliance that is possible between light and darkness, sowore responds to a question of his possible alliance with APC.
"We are in alliance with PRP vanguard. We do not need the kind of alliance APC is looking for. Those are transactional alliances.
"Ours is mostly ideological. We align with people who believe that this country must experience growth, development, peace, prosperity and progress, and it is also important that the personalities involved have stood the test of time. However, our first alliance is with the oppressed," he said.