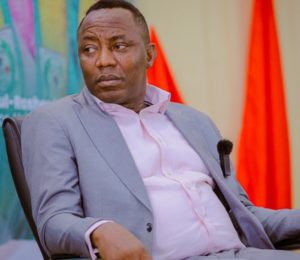 The Presidential Candidate of African Action Congress, Omoyele Sowore has criticized the new electoral act for having a deficit that got the senate president declared in an election where he never contested for its primary election.
He challenged the Nigerian lawmakers at the national assembly public hearing on the "Electoral Act 2022" saying they had made it possible to be taken advantage of by the judiciary.
"I want to say regarding this that the electoral act has a lacuna that is being exploited by the judiciary. We are all aware that even though the electoral process has been closed, courts are still giving conflicting judgements regarding candidates in this election including some candidates that didn't even participate in primaries that have been imposed on inec as we speak, one of them is your president here, he said.
The AAC Presidential Candidate also condemned the electoral acts that empower INEC to become a major decision maker for parties, saying it is not a democratic electoral act.
"An electoral act that also empowers inec to become a major decision maker for parties is not a democratic electoral act.
He made mention of how parties are being deregistered at will and urged the senate to look into it.
He said, "The senate should look directly into how to curb inec power to deregister parties because that does not promote democracy at all. Parties are registered and participating in elections and whenever inec likes, they deregister them and they may shut out very serious ideological parties. I am afraid that if they are allowed to do that, some of our parties might become victims of this excellent but draconia power of inec.
Sowore pointed out how incapable the INEC live servers have been and its inability to handle queries in national elections unless the ICT department of INEC creates a solid website that can carry out encrypted messages from polling units.
"They don't have strong servers, they don't have the ability to connect to as many queries coming to it instantly the way other websites should function, he said.