Senator Ndume who's a member of the President's political party, the APC has accused General Muhammadu Buhari's regime of rationing ammunition for frontline soldiers.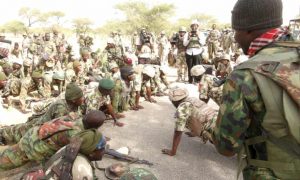 The APC Senator accused the Nigerian government of arms rationing, citing that frontline soldiers are only provided with old weapons to fight bandits, Boko Haram, and ISWAP terrorists.
"I interact with the soldiers, I have gone through the formation, I cannot see a soldier holding brand new AK47. It is so bad that the Nigerian Army is rationing ammunition among soldiers. I can be quoted.
"In a budget of N13 trillion, you are allocating the N30 billion," said Ali Ndume, the Chairman of the Senate Committee on Army, to the finance minister Zainab Ahmed on the issue of financing the Nigerian military.
On Tuesday, Peoples Gazette reported the spending spree of Mr. Buhari's regime as exposed by BudgIT, put at over N10 trillion since 2015 to date.
During an interactive session of his committee, Mr. Ndume stated this during an interactive session with representatives of the chief of defense staff and the chief of army staff.
The senator is a member of the country's ruling party, All Progressives Congress, along with Mr. Buhari. The APC rose to power in 2015 on the wave of a pledge that it would end Nigeria's protracted war against terrorists in the North.
Lamenting the poor funding of the army, Mr. Ndume wondered why the Nigerian Army received only N30 billion out of the nation's 2021 budget of N13 trillion, describing it as unreasonable.
The senator further stated that the only place he saw well-kitted military men armed with new AK47 rifles in the country was in Abuja.
"As I said, I can be quoted: the only place I see new AK47 is in Abuja. That is necessary because that is the image of Nigeria.
"Nigerians are looking forward to this meeting hoping that we can resolve it, in terms of addressing the challenges of the Nigerian Army," he explained.
Mr. Ndume disclosed that Mr. Buhari's regime spent about N54 billion to fund operations of the Nigerian Army between 2019 and 2021.