A Senator of the 8th Assembly, Senator Shehu Sani said the agitation for break up of the country by various interest groups and insecurity was fuelled by systemic injustice and impunity by President Muhammadu Buhari-led government.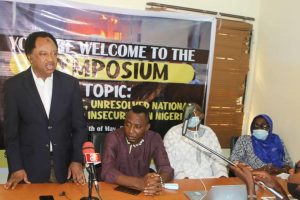 The Senator said as long as poverty, corruption and bad governance continued to grow and failure of government become apparent the bandits and terrorists would not drop their arms.
He stated this on Thursday in Abuja at a symptom titled " Minimum wage, Unresolved National Question and Insecurity In Nigeria organized by Movement for a Socialist Alternative ( MSA ), Take It Back Movement ( TIB ), Committee for Defence of Human Rights ( CDHR ), Socialist Party of Nigeria ( SPN ) and Democratic Socialist Movement ( DSM ) and others.
Sani said those calling for break up of the country were once patriots and nationalists who believe in Nigeria but could not bear the gross injustice in the system therefore resorted to agitation for
self-determination.
The senator noted that Nigerian leaders have never seen themselves as servants who suppose to serve the people but as conquerors who have conquered a country and dominate it.
According to Sani, "The revolts and storms you see in this country today are reaping from what has been sowed by Nigerian political class. And as poverty continues to grow and failure of government becomes apparent you will not see bandits or terrorists dropping their arms, you will rather see people moving the other side of the divide.
Sani said " Insecurity is not only a threat to the existence of the people but today one of the most important factors that are precipitating the agitation for the break up of Nigeria.
" I am a believer in the unity of Nigeria and unity of African as a state ( United States of Africa ). But there is a need for us to ask ourselves most of the persons who today have become the face of separatism and break up of Nigeria were once nationalists and patriots who believe in this country.
From IPOB to Oduduwa group, from Nnamdi Kanu and Sunday Igboho, they were believers in Nigeria. What went wrong? That is the question we should ask ourselves "
" Today the military is more interested in constructing event centers, shopping malls, universities and commissioning housing scheme. You can hardly see a policeman with a weapon without a sellotape, sometime you will even ask if sellotape was part of the Nigerian weapon system. This is how low things have become.
He berated the Minister of Finance and the federal government for not be able to justify how the sum of N1.08trillion released to the Nigerian military within 28 months was utilized.
The Senator said it was laughable for a country to invest such an amount of money on security agents and still find it difficult to locate and rescue 30 abducted students in 55 days.
"Today in my own part of the country the northwestern part of the country,
bandits have become more than authority and a state to themselves. Almost 60 to 70 percent in Niger state senatorial constituency have been wiped out by bandits.
They kill, they terrorise and displace poeple from their ancestral lands or they give you condition of living under the authority and command. This is how the state has regressed and thishow the government has abandon its people" Sani added.