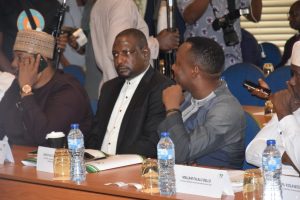 My name is Omoyele sowore. I am the presidential candidate of the action congress, and i am going to be the nigerian president after february 2023.
I want to say here and it's very important to me that I observed one of the most peaceful elections in 1993. Had we allowed that election to stand, we would not be signing a peace agreement today because that you are signing a peace agreement in nigeria shows that elections have become war in nigeria.
This is the only country in the world where you sign a peace agreement during an election season as if we are at war, but that is what our elders did to nigeria and i think next time we should sign a peace agreement with the elders who are instigating violence in this country or have them sign peace agreement between themselves, because peace is not breached by poor people, poor people suffer the consequences of violence.
When you look at elections, the people that suffer the most are those poor women and men and when there is a breakdown of law and order in Nigeria, every richman politically connected gets enough police protection and they are able to get on a jet and leave Nigeria at the slightest provocation.
This is where we are, and I should also say that some of the people that are instigators of violence during the election are not in this hall. They are the versatile representatives of some of the men and women in this hall. There state governors in particular, you need to get them to sign a peace accord.
Some of them are the most violent and violence people in nigeria. They demonstrated it in Kogi state. A woman was burnt alive in her house and till today, the killers of that woman has not been fished out in nigeria. In Kano, there is someone campaigning that if they don't win the election, they will kill everybody in kano. In Borno state it is the same thing. Lagos, where the APC hosts were, you cannot paste a poster if it's not bola ahmed asiwaju poster in lagos, i just came back from lagos.
They have a team that tears anybody's poster that is not their candidate's poster. You cannot even pay for your poster or banner to be hosted in lagos. They have a bureaucracy in place that makes it impossible for you to do.
How can there be peace in a country where there is no justice? We keep lying to ourselves all the time. I also want to say for the rest of us as you've treated us today because we don't have resources and we don't have powerful connections, we don't have access to state resources. Most of the other candidates use and abuse state resources, they have governors who dip their hands into state treasury and use them to fund their candidates activity and nobody is challenging them.
Once in a while, when they want to tickle your fancy, the EFCC comes around to play at the playground of the political parties. Two political parties are particularly notorious for this. They buy votes at their primaries and in the final election.
How do you compete with these people if elections are supposed to be about justice and bringing about great leadership and bringing about peace and developments. How do great people win elections in a country where terrible people control all the resources of your country? That's another issue for another day.
>The other part is the media, and I should say this because I am a media practitioner too. They have short several of us out. Also i will accuse the media of bola ahmed tinubu, they have never interviewed me in this election, that is the TVC news. They have blacklisted some of us. But they are supposed to be a public media that should attend to everybody.
>Security agencies have allegiance and loyalty to just a few people, that is the truth. I was almost ran out of the road in ibadan just yesterday because atiku was in ibadan to campaign and i was also there to campaign but i had one car, atiku had over forty. i had no police, atiku had over five hundred policemen attached to him.
I will say finally that nobody should lose hope in this hall, especially those of us at the receiving end of the injustices in this country. One day, the table would turn! Thank you very much.