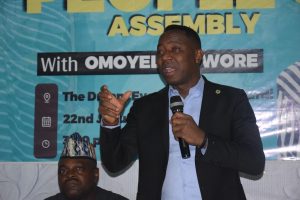 The presidential candidate of African Action Congress, Mr. Omoyele sowore has said that his goal, and that of his party is to have the capacity to feed ourselves as a country and feed the continent of Africa. Speaking at the Party's People's Assembly in Benue, the AAC flag bearer said " Our goal, and that of our party, the African Action Congress is to develop the capacity to feed ourselves as a country as well as the continent of Africa, and we are going to focus on Benue state as one of the sources of this particular policy".
Mr Omoyele sowore promised education, healthcare, justices, infrastructures and better welfare for the people of Benue state and Nigeria at large.
He also said AAC is an equal opportunity party. He mentioned this while commending the Benue (AAC) deputy governorship candidate at the people's assembly in Makurdi.
He said, "Our party is an equal opportunity party and our position is that women should not only be playing second field with men because they are stronger than men. They create, recreate, establish, authority over men from time to time.
"In this dispensation, there have been more women registered voters in nigeria history, ever. About forty seven percent of them are registered to vote. That is to say if they convince their loved ones to vote for a female president, Nigeria can produce a female president even in 2023. I am not one of those who do pity parties for women; let's give them 35 percent.
If you are forty seven percent of the voters, take forty seven percent.
He said in Rwanda, almost seventy five percent of their lawmakers are females. And that country is doing well in africa today. He said men should be ashamed of themselves in nigeria.
"We exact authority all the time but look at the country ruled by men. Let's try women next time.
He also said nigerians are tired of the old system of governance.
"Nigerians are tired of hunger, starvation and strikes. Nigeria is the only country in the world that is not at war but has got internally displaced persons inside the country. Nigeria leaders are disgracing nigeria. And by reputation, Nigeria is letting down a lot of African citizens and countries.
He said at a time in this country, the people who were running Nigeria were in their twenties. Nigeria is therefore not making progress if in 2023 the likely president of Nigeria is 95 years old.
"I have no problem with old people, I only have problems with old ideas because Old ideas have set Nigeria back by centuries. For how long shall we continue like this? it is impossible for this country to make progress with the present crop of leaders and presidential candidates contesting. He said the labour party is the overflow of PDP. Same people, same character, same operators who were packaged to look different.