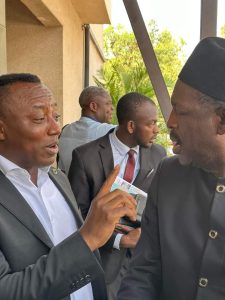 The presidential candidate of African Action Congress, Omoyele Sowore attended a meeting between the Nigerian Bar Association and other presidential candidates in Abuja today. The human rights activist came across the prosecutor that unjustly tried him for a treasonable felony and told him there was never a case in the first place when asked by the prosecutor how far the case had gone.
He took to his Facebook and posted, "Today at the Nigeria Bar Association (NBA) #NBASTATEOFTHENATION dialogue with Presidential candidates in Abuja, I ran into the prosecutor hired by the Muhammadu Buhari to try me for "Treasonable Felony" Mallam Hasan Liman (SAN), he asked "how far with your case" and I told him there was never a case against me in the first place. Today, he's come to represent Emilokan at the conference. Mr. Lomas abandoned my case after an embarrassing abduction of my person in the Federal High Court. As I always stated: "One Day the Tables Will Turn" #WeCantContinueLikeThis".
Omoyele Sowore was arrested on the 3rd of August, 2019 for planning a protest tagged "Revolution Now!" and was released after 5 months in detention at Abuja. He was thereafter restricted to Abuja, (City arrest) for more than 3 years.
As of the time of filing this report, the presidential candidate, Omoyele Sowore is still restricted to Nigeria, passport seized and unable to travel out of the country.