The National Secretariat of African Action Congress (AAC) is seized by the circulation of an event flyer that addressed a certain Leonard Nzenwa as the National Chairman of the African Action Congress and listed same as a panelist in a forthcoming live webinar with the topic – ''Intra-Party Democracy in Nigeria: Challenges and Solutions.'' (sic). We are shocked at such misinformation coming from one of the best in the corridors of investigative journalism in the country.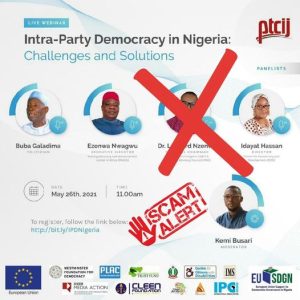 A cursory move on the official website of the party, aacparty.org would have saved the Premium Times this egregious error of offering its platform to a usurper who was expelled over very weighty allegations of FRAUD, STEALING, FORGERY, SABOTAGE, and ANTI-PARTY ACTIVITIES after being offered fair-hearing.
As a political party that engages with the principles of democracy as its guide, Leonard Nzenwa was issued a query letter on the 17th, January 2019, and was suspended pending investigation and his defense (https://aacparty.com/case-against-dr-leonard-ezenwa/).
Upon recommendations of a disciplinary committee set up by the National Working Committee of the party, he was expelled from the party. The AAC RETERIATES THAT THE SAID INDIVIDUAL, LEONARD NZENWA IS NO LONGER A MEMBER of the AFRICAN ACTION CONGRESS (AAC), let alone an executive at the national level. COMRADE OMOYELE SOWORE REMAINS THE NATIONAL CHAIRMAN OF THE PARTY, ratified alongside other officers at the first and only Convention which held in Lagos on 6th, October 2018 in line with the provisions of Section 57 of the party's constitution.
Among the many letters of the AAC expected to be in the archive of the Independent National Electoral Commission, is the most recent which was signed by members of the AAC National Executive Committee (NEC), received by the Secretary to the Commission, Mrs. Rose Omoa Oriaran-Anthony in Abuja on the 28th of April 2021, demanding that the Commission rids itself of the perceived complicity in the protraction of this illegality and injustice done against our party's internal democracy- a topic the PTCIJ aims to address in its programme.
"We demand forthwith that the said individual addressed in the said capacity be delisted as a Speaker at the event and that the flyer be taken out of circulation and/or a statement addressing the misinformation be issued by the Premium Times Centre for Investigative Journalism (PTCIJ).
"We also use this medium to put the Inter-Party Advisory Council (IPAC) on notice that it cannot continue to recognize a usurper if it aims to be regarded by the public as anything close to a democratic organization". The African Action Congress said in a statement signed by its National Publicity Secretary, Mr. 'Femi Adeyeye.